Disclaimer: I received a book to review. All opinions are my own.
My son, Tbomb, was diagnosed with ADHD about a year ago. This diagnosis was the result of working with him, journaling everything, and him being watched over a year by a doctor with 30 years experience. We started out with medication. For close to 2 months, we tried Ritalin. It didn't take me long to see that it was not the answer. I didn't like the ups and downs that he had with the medication. Also, while he was on it, it was like his oomph was gone.
Since then, I have been researching, monitoring, and simply trying to figure out what works for him to keep some sort of calm and balance.
I was sent a book that has helped more than I can put words to, The ADHD Handbook by Stuart Passmore.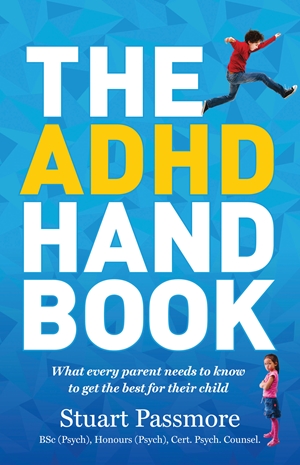 Attention Deficit Hyperactivity Disorder (ADHD) is now one of the most common childhood disorders right across the world, with a wealth of conflicting advice available everywhere you look. But most parents want only one thing: to find out what is going on with their child and how they can help them.
The ADHD Handbook draws on the most up-to-date research from around the world to present a comprehensive look at ADHD, covering everything from how it is diagnosed to the common myths surrounding what causes it, from the brain anatomy implicated in the disorder to the pros and cons of the various types of medication, and from the most effective psychotherapies to the best parenting techniques.
For me, finding solutions and techniques that can help him and our whole family get through each day with fewer meltdowns and less stress is worth more than gold. This book is really helping with this. I also like that I am learning more about the disorder. Growing up with two ADHD brothers, I know more than most parents, but there is always more to be learned. I have also noticed certain behaviors that are because of the ADHD that I thought was just him misbehaving. This is an invaluable resource in our home.